Become The Person Your Dog Inspires You To Be
Join this 3-Month Life and Leadership Coaching Program 
Enhance The Quality Of Your Relationships – Enhance The Quality Of Your Life
For the longest time I dreamed of combining my two loves – my love to coach people to feel more alive and connected in their lives / work and my love for dogs.
You see dogs are our life teachers. They touch our hearts. They connect us to Mother Nature. They guide us in mysterious ways as long as we are paying attention to them. They see the best in us even though we cannot see it yet.
In this coaching program with the canine twist, your dog will inspire you to become more alive by transforming your relationships – the relationship with yourself and the relationships with others.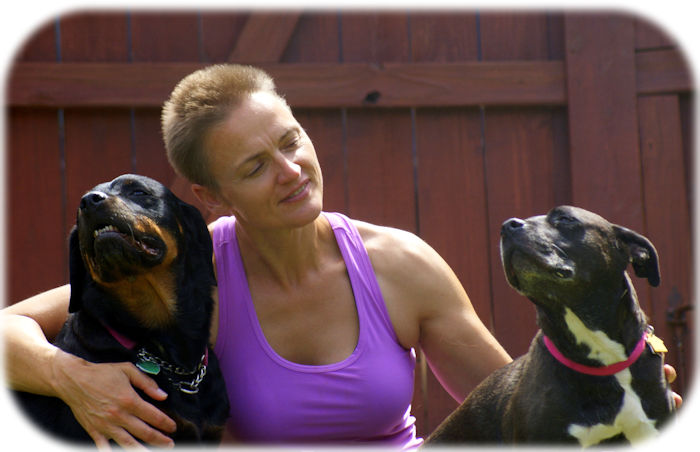 Who is this for:
This interactive, experiential, action-oriented, caring, and life-changing program is for you if you:
have a dog and are willing to include the spirit and wisdom of your dog in this program
Your dog is so very connected to you and to his/her environment that (s)he can act as your coach, mentor, or teacher guiding (and sometimes pushing) you to take leaps in order to move to the next step in your own evolution. 
P.S. If you have more than one dog, I suggest that you look to the dog that is creating the greatest waves on a daily basis. The greatest waves idea includes both the positive and negative emotions. We will explore this further in our initial meeting. 
strive to experience meaningful transformations in the relationship with yourself or with the people around you
are open to discover, learn, and implement more effective ways of "being and doing life"

like to have fun with a group of like-minded individuals.
What you can expect:
You get unstuck in an area of your life and you create something you really want.
Examples of being stuck can include but are not limited to:
– you struggling with something in your personal life, such as a change you want to make, a person in your life, too much stress, not enough time for things you want to do, etc.
– you struggling with something in your professional life. For example certain people may take advantage of you and cross your boundaries, you are overwhelmed with work, you have conflicts with co-workers, etc.
You will make faster progress with your 2020 goal. You will create more clarity, develop stronger relationships with key people who can support you, and stay on track to make change happen.
Your new way of being shifts the behavior of your dog.
For example, your dog acts unruly towards people or dogs in your presence. By you altering your leadership, energy, and presence, the dog's behavior will shift as well.
And by the way, the transformation of your leadership will have an impact on the people around you as well.
As a result of working on one or more of the above situations, you create a deeper bond with yourself, others, and your dog.  Working on yourself is the key to a positive, healthy, problem-free relationship with your dog and the people in your life.
Here is how we'll get it done:
This coaching program is a pilot program at an introductory price. It starts on Saturday, June 27, 2020 and runs for three months. The group is limited to eight individuals to ensure maximum care and results.  
Live 4-hour group kickoff meeting in nature setting in North Metro Atlanta, GA area on Saturday, June 27, 2020. Dogs will stay at home. (In person retreat location subject to change pending Covid-19 unknown future actions. Virtual retreat is always a possibility.)
ONE 1-1 meeting with your dog
THREE private coaching sessions with me, Iris
Monthly Group Q&A / Webinars (3 in total) via Zoom
Based on the goals that you and your peers create in this program, I will present fast track learning modules that will speed up your learning curve. Our sessions will address powerful principles of leadership, effective communication (with people in our personal and/or professional lives and our dogs) stress and overwhelm management, mindfulness and more.
Private FB page so we can stay connected and learn together
Resources including books, videos, audios that complement your progress
Please remember, this is a life and leadership coaching program and NOT a dog training program even though your dog's behavior will transform as a result of your participation in this program.
A lot of words on this page will not give justice to the impact and the fun this program is about to deliver. If my words speak to you, let's talk. My number is 770-428-2334 (landline, so please don't text) or click here to contact me via email. We will schedule a conversation so I can learn where you are; you can fill me in on what you are up to and together we can make sure this program (with limited seating) will be worth your time and money to experience. 
If you have a dog and you are ready to learn from him/her, there is a space in this group for you. If you want it… let's talk.  
LIMITED-TIME OFFER
Register NOW and you'll receive
TWO BONUS private coaching sessions with Iris.