Unleash Your Best Life!
Upgrade Your Life And Leadership Experience with the Canine Twist
A coaching program for individuals who want to partner with their dogs to create powerful transformation in all aspects of their lives.
Let's Talk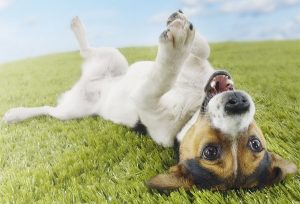 Are you satisfied with your life at work and at home?
Do you have freedom from stress and anxiety?
Do you create and live a life you love?
Or is the drama of life ruling you?
Dogs can be one of our greatest teachers and helpers in life. They are energetically connected to us. They can show us where we are out of alignment with our own life. Their dependence on us creates a strong bond where they can take on our healthy as well as unhealthy negative energy. And sometimes dogs misbehave because they lack the leadership they need from us.
Since dogs live so closely with us, they are wonderful partners for our personal growth. They can help us tap into our hearts. Their behavior often mirrors our leadership effectiveness. Their love for us can inspire us to transform our way.
Through canine-assisted coaching, you will partner with your dog to strengthen your authentic leader presence and create a life you love. In a self-discovery process and through playful interactions with your dog, areas for growth will surface. You will expand your awareness of patterns that can enrich your relationships, career, and leadership roles.  You will deepen your presence. You will fine-tune and adopt behaviors that help you create the results you want and enhance your life experience. 
If you like to partner with your dog to make some major changes in certain areas of your life and if you want to strengthen your bond with your dog as a direct effect of this program, let's have a conversation. The best way to get an idea of my approach to coaching is to experience it first-hand. I invite you to click here and let's schedule a conversation to chat.
If you are not ready yet to talk to me but you are interested in this unique coaching approach, let's start by going through an exercise on the relationship with your dog.
Fill out this form and I will send you the link to the play sheet called, "Know Your Self – Know Your Dog." It is an insightful tool to reflect on the life or leadership lessons that you can learn from your dog.