Experience a Powerful Shift in Your Leadership and Life by Harnessing the Wisdom of Your Dog
You love your dog. You want your dog to have the best life. Your dog loves you too and wants you to have your best life too.
Unleash the Leader in You
and become the person your dog inspires you to be so that you:
experience more peace at home and greater performance at work
see every situation as a stepping stone to better leadership
feel empowered in relationships, not only with your dog but also with the people around you.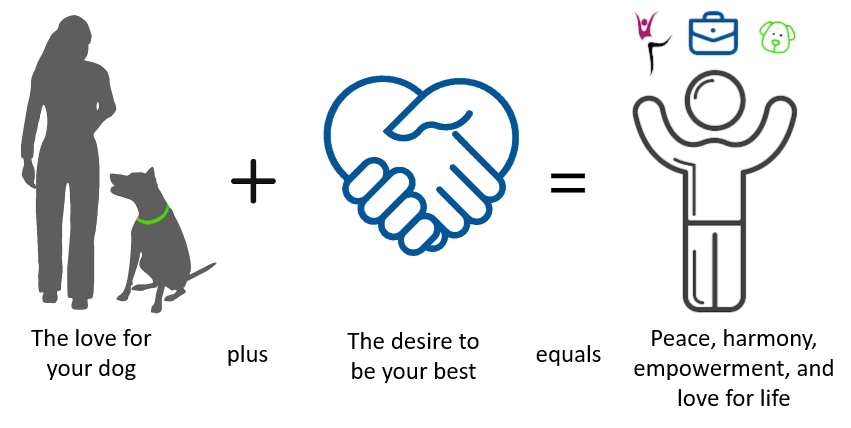 Often we adopt and rescue dogs because we want to help an innocent animal. We want to be needed and we want to share our love, not realizing that a dog gives us more than we can ever give back.
When we adopt a dog with the intention to bring out the best in the dogs, the dogs bring out the best in us. They teach us forgiveness, playfulness, love, resilience, letting go, and so much more. But they also teach us that relationships and life are a dance between leadership and followership, breakdowns and breakthroughs, losses and gains, control and surrender.
Since dogs are living in a close relationship with us, they swim in our emotional soup and therefore amplify our life – the disturbing emotions such as chaos, stress, and friction but also the enriching emotions such as peace, contentment, and joy of life. With that, they are a reflection of our leadership, and our relationship with dogs shines a light on our leadership of life.
Do you want to create more peace, harmony, empowerment, and love for life with the help of your dog?
If you say, "YES" I invite you to download a little play sheet to illuminate your relationship with your dog and the wisdom that (s)he reveals for you to live at your best.
Let's have some fun with your dog and learn something unique that only your dog can reveal about you.