For business owners, executives, and leaders who love dogs
Discover the Secrets of Dog-Gone Leadership
Unlock a fresh and exciting approach to leadership development that will transform your leadership style and take your team to the next level. Welcome to Dog-Gone Leadership, where our furry friends teach us invaluable lessons about effective leadership in the workplace.
What Our Dogs Can Teach Us About Leadership: Five Insights and Practical Applications
Leadership is not just about achieving results; it's about nurturing relationships because the relationships will help us achieve results together. At Dog-Gone Leadership, we believe in the continual commitment to both, never compromising one for the other. As an executive, business owner, or dog owner, you understand the challenges of balancing the needs of your business, team, and even your four-legged companions.
In this exclusive document, we explore five valuable lessons that our relationship with dogs can teach us about leadership:
1️⃣ Prioritizing our emotional well-being
2️⃣ Improving our communication skills
3️⃣ Embracing problems as opportunities to learn and grow
4️⃣ Taking responsibility
5️⃣ Leading by example
By applying these lessons to your professional life, you can become a better leader, create a positive work environment, and witness personal growth and growth in others.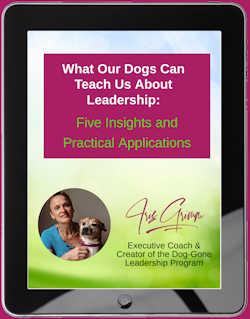 Discover how to leverage the relationship with your dog to achieve greater results in business.

The Power of Dogs: Unleash Their Leadership Lessons
Dogs are not just pets; they are loyal companions and members of our family. They model loyalty, joy, and love, and through them, we can discover powerful insights into leadership that can be applied to our professional lives.

Join the Dog-Gone Leadership Movement Today!
Don't miss out on this fresh and exciting approach to leadership development. Sign up now to receive our exclusive document, "What Our Dogs Can Teach Us About Leadership." Start practicing and strengthening your leadership skills at work and at home with your dog. Together, we can create harmonious relationships with our furry companions and foster positive work environments that drive productivity, motivation, and overall well-being.

Unveiling the Dog-Human Leadership Connection
At Dog-Gone Leadership, we draw parallels between dog and human leadership and translate these lessons into practical applications in the workplace. By observing and reflecting on our relationship with dogs, we gain a deeper understanding of ourselves and become better leaders. We emphasize that this does not mean treating employees like dogs but rather using dogs as catalysts for conversations about effective leadership.

Who is Iris Grimm?
Iris Grimm, your Executive & Leadership Coach, Group Trainer & Facilitator, and Dog Trainer, is passionate about helping you tap into your own wisdom and elevate your leadership experience. With Iris's guidance, you'll discover newfound ease and flow in everything you do. As the creator of the trademark program "Dog-Gone Leadership," Iris combines our natural bond with dogs with practical leadership strategies to empower executives and teams.
Join the Dog-Gone Leadership community today and unleash your full potential!