Dog-Gone Leadership - Bringing The Best Out Of Your People
A unique and innovative approach to optimizing performance
in your company by tapping into the wisdom from dogs.
Stop feeling resigned to the status quo and create better outcomes and connections with ease.
Dogs connect us to our hearts. They can bring the best out of people at home.
So why not allow them to bring the best out of people at work?
Let's face it – people love or admire dogs.
Close to 40% of American households own at least one dog.
Dog videos are the most-watched videos on YouTube.
More and more companies create pet-friendly workplace policies because employees don't want to keep their dogs at home by themselves for too long.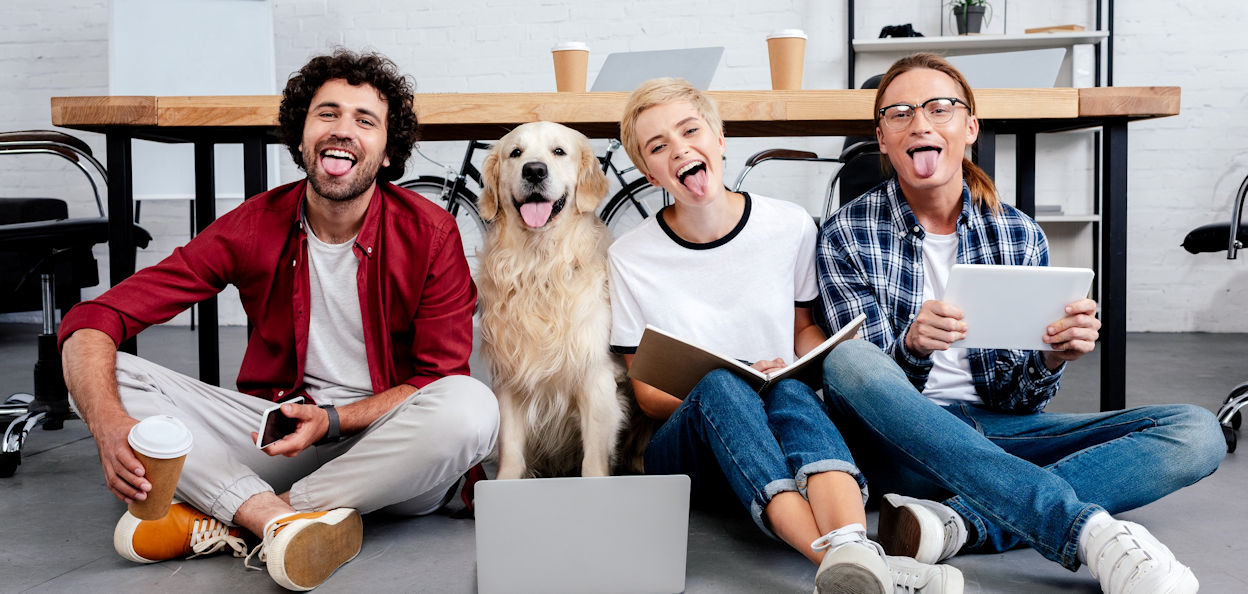 You don't have to be a boss to be a better leader.
Dog-Gone Leadership with Iris Grimm steps outside of the conventional professional development box.
It is an engaging approach where we merge people's admiration for dogs with their desire to enhance their performance and leadership. 
Here is what we know about dogs – they:
shake off their stress with ease
can read the energy of a room very quickly
let go of the past quickly
reflect our leadership in vivid pictures and behaviors
Dog-Gone Leadership teaches high performers to:
shake their stress off quickly and return to an emotional state that serves the situation best
read the energy in the room and adjust their style/approach accordingly
take nothing personally and let go of any grudges and conflicts swiftly
leverage their leadership strengths and engage their teams
Iris has a unique background. For over 20 years, she has been coaching and training leaders in various industries and levels. And what started out as volunteer work to raise money for dog rescue groups, she has been training dogs and their owners for over 10 years. Early on, she used her professional coaching skills to help dog owners sort out their challenges with their dogs. She drew parallels from the business world to explain a concept to dog owners in their relationship with their dogs. And when she worked with business leaders, she used examples from her dog training experience to illustrate leadership insights in the business world. Her vast experience in coaching and training not only people but also dogs allowed her to merge both modalities into a practical, inspiring, and engaging program.
The concepts of Dog-Gone Leadership apply to everyday challenges in companies, including:
finger-pointing, blaming, and lack of responsibility
misunderstandings in teams that lead to emotional breakdowns
team members being disengaged, withdrawn, and not aligned
stress overriding performance
being complacent with mediocre performance
Frequently Asked Questions
What is Dog-Gone Leadership?
It is a unique and customized program for companies, non-profit organizations, and associations where we merge the wisdom from dogs with leadership and professional development.
Does everyone have to have a dog?
No. Dogs are not a requirement to get the learnings and the growth from this program.
Will dogs have to be present in order to get the most from this program?
No. Quite the contrary. Dogs could be a huge distraction from learning to occur. Therefore, the dogs can stay at home and nibble on their bones.
Is this dog training?
No, this is not dog training. Iris may share stories from training dogs, but the emphasis will be on what can be learned from living with dogs and applied in the workplace.
Our company is a pet-friendly company. Can we bring our canine employees to this program?
We can discuss whether it makes sense to bring the dogs or leave them in their cube.
Are you implying that leaders should treat their employees like dogs or refer to them as dogs?
No, not at all unless they regard and treat their dogs better than their employees
What is the format?
Depending on the outcomes that you want to accomplish with this program, we will customize the format. This is a versatile program that can be presented as:
An opening keynote for a conference or retreat
A workshop / breakout session during a company retreat or conference
A kunch'n learn program
An ongoing workshop series in your company
A leadership development training that can last from 1-hour to 2-day training
A group coaching program in your company.
Intriguing enough? If this speaks to you, the best way to learn more about this program is through a conversation. I invite you to click here and schedule a time that is convenient for you.