Transform your Group's Performance and Leadership with Lasting Impact
To optimize learning and its implementation, the content needs to be relevant, engaging, and memorable. So why not include the help from (wo)man's best friend to make your next group event a success?
When we look deeper into our relationship with dogs, we find that dogs can be our teachers and coaches in business and in life. They can inspire us to make meaningful changes – changes that benefit us, the people around us, our organizations, and, of course, them.
That doesn't mean that employees are treated like dogs. And it also doesn't mean that dogs have to be present during the event. Instead, through stories, analogies, videos, and conversations, this approach harnesses the wisdom of dogs and the human-dog relationship to unleash greater leadership potential. This is a fresh and unique approach to adult learning and professional growth that creates lasting impact.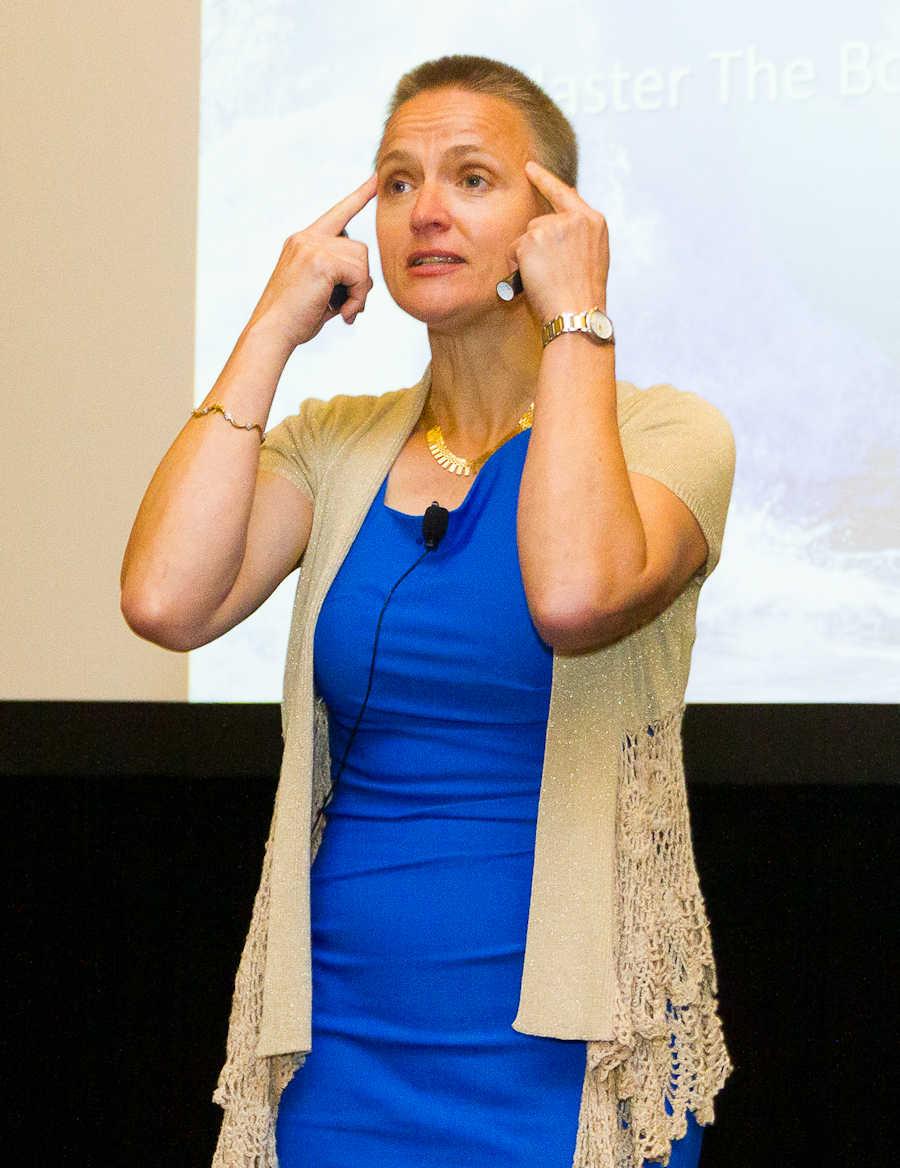 Whether you plan a company-internal event or your next association meeting, let us talk and explore how one of my presentation topics can serve your audience. 
Workshops, lunch'n learn programs, retreats, breakout sessions, webinars, or presentations – customizable as a 1-hour program,  1/2-day, full-day, or 2-day events – are viable options to invite your team/audience to discuss critical topics and upgrade important business relation skills.
As a skilled speaker, facilitator, and coach, it is my priority to keep all topics pragmatic, interactive, and flexible.
Based out of Atlanta, Georgia, I travel nationwide to deliver keynotes, workshops, and breakout sessions to organizations or associations.
On behalf of the Medical Staff, I would like to thank you for your presentation. You were informative, engaging, and helpful to us. As you could tell by the interaction you had with the audience, your conversation with us was right on target. The feedback I received was quite complimentary to you. Thank you again.
Creating the Zone of Optimal Performance: Channeling the Wisdom of Dogs for Self-Leadership
Discover the transformative power of "dog-gone leadership" and unleash optimal performance in your workplace. Just like dogs, we possess untapped potential waiting to be harnessed. This engaging program is designed to equip your audience with the skills and knowledge to create a roadmap for upgrading performance, drawing wisdom from our four-legged friends.
In this holistic approach, we align mental, emotional, and physical well-being to unlock further potential. We recognize that improving productivity goes beyond working harder or longer hours; it requires intentional and disciplined self-leadership. By reflecting on current habits, identifying areas for improvement, and implementing incremental changes, we can optimize performance and maximize well-being, success, and contribution to the workplace.
Depending on your desired outcomes, we delve into conversations around emotional competence, mental fitness, time and energy management, developing stronger communication skills, and enhancing overall health and well-being. Let's tap into the wisdom of dogs to unleash optimal performance in the workplace and in life.
Iris Grimm conducted an outstanding presentation for our Institute of Management Consultants (IMC). The topic: Keeping Healthy and Motivated During Tough Times. She was very professional, well-organized, and engaging. I enthusiastically recommend her as a skilled coach, trainer, and facilitator.
Unleashing Enhanced Leadership in the Workplace: Insights from Canine Wisdom
Human leadership, just like dog leadership, is an ever-evolving topic and there are many parallels that can be drawn between both. In this captivating program, we explore the world of enhanced leadership and the invaluable lessons that we can learn from dogs. We highlight and discuss the leadership skills that not only bring out the best in dogs but also instill a higher level of engagement, trust, and collaboration in the workplace.
Depending on the needs of your organization, we include conversations and principles about effective communication, emotional intelligence, emotional competence, adaptability, collaboration, and bringing out the best in others. Just like dogs, employees thrive in a nurturing and supportive environment. A well-trained dog exhibits loyalty, discipline, and a remarkable ability to adapt to different situations. Similarly, when employees feel appreciated, empowered, and guided by strong leadership, they can achieve remarkable feats for their organizations. By embracing the wisdom of dogs and implementing the principles of "dog-gone leadership," leaders can create an environment where optimal performance thrives.
I cannot say enough great things about Iris! She recently facilitated an 8-session Emotional Competence curriculum with the participants of our diversion program, Beyond The Bars. She is an amazing facilitator who was able to lead men who had never participated in anything that required a level of self-introspection like this, and they were not just participatory but highly engaged in these sessions. I believe these sessions will make a positive impact long-term on the lives of these men!
Do you have an upcoming retreat, conference, or training day where you want to provide a meaningful, dynamic presentation? 
If you are looking for a practical, solution-oriented, engaging, and customized program, I invite you to call me. You will get a better feel for what I am to provide for my audiences and how these topics are so unique and refreshing. 
Our organization, Women in Insurance and Financial Services, partnered with Iris for an annual membership event and her presentation really brought our event to the next level.
She was timely, passionate, and responsive during the entire time and really made everyone feel like she was addressing their questions and concerns to ensure they properly apply the ideas and principles of her presentation.
In addition, participants were very engaged with the topic, with Iris as a coach, and with each other as a community.