Workshop, Retreat and Presentation Topics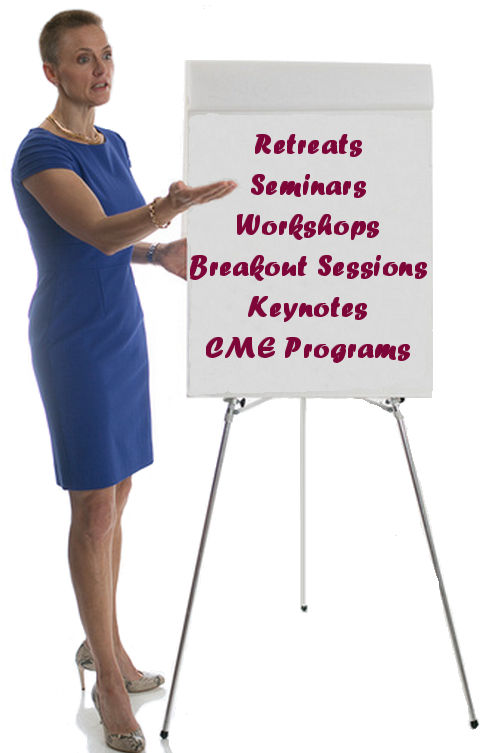 Attending a long-term coaching program may not always be feasible. Or you may not be that familiar with coaching and could be rather skeptical about it. A presentation or workshop could be a better option for you.
Whether you are dealing with communication breakdown among you and your team members, too much stress and not enough time, emotional insecurities, or not enough team members performing at their best, my presentation content is practical and realistic.
Workshops, retreats, breakout sessions, or presentations – whether as a 1-hour program,  1/2-day, full-day or 2-day retreat, can be a viable option to invite you and your team to discuss critical topics and upgrade important business relation skills.
As a skilled speaker, facilitator, and coach, I keep my topics very pragmatic, interactive, and flexible.
Based out of Atlanta, Georgia I travel nationwide to deliver keynotes, workshops, and breakout sessions to organizations or associations.
I am appreciative and extremely pleased with the presentations you have given to the medical staff and leadership. The presentation at Medicine Grand Rounds on stress control was professional, stimulating, and very well received. IN addition, the presentation at the Medical Staff Leadership Retreat on "Coaching Skills" was superb, and I received many accolades about the program from our physician leaders.
Iris, many of the recommendations and points you make are extremely important for physicians in the present environment. The insights and skills you engender are of great benefit to health care institutions coworkers, patients, and most importantly, the physicians themselves in terms of their productivity and gratification."
R. Gilbreath, MD
Here is a quick overview of the different topics I address:
Conversational Intelligence
Conversations have the ability to trigger emotional reactions. Words carry baggage. They are rarely neutral.
Conversational Intelligence is the intelligence hardwired into every human being to enable us to navigate successfully with others. Through language and conversations, we learn to build trust, to grow, and to build partnerships with each other to create and transform teams and organizations.
Learn in this practical presentation what Conversational Intelligence is and how you can apply it in your daily interactions with others.
Emotional Intelligence and Competence – Two Critical Factors For Business Success.
Skills in emotional intelligence (EI) not only help leaders build trust faster with their teams but also help understand, engage and motivate. They are essential for relating, dealing well with conflict and creating workable solutions to complex problems.
At all levels, they set the EI culture for their team / practice and this culture directly impacts team relationships, turnover, and relationships with colleagues. When the development of the EI of the team leaders is ignored in favor of a view that "intellect", organizations make themselves susceptible to employee disengagement and low moral.
Stress – let it go for good!
Healthcare and stress go hand in hand. Many physicians get used to it or burn out by it. When you read about stress management, most likely you hear strategies that such as exercise more frequently, meditate daily, take frequent breaks etc, which require more time which you of course don't have.
To optimize your performance and avoid burnout, you cannot just manage stress, you want to reduce it as much as possible by changing your perspectives, transforming your environment with systems and processes, and simplifying life and work.
Learn in this practical program how to control stress, how to make more time for the important things in life and how to experience more work-life balance. Stress is personal and by you transforming it, you will become an even greater resource for your patients.
The Power Of Leadership
When you hear leadership for physicians, most likely you think of physician leaders who are in an executive role or physician managers who are leaders of their departments. But I like to look at leadership for physicians from a broader perspective – every physician who wants to make a difference to their patients, grow their practice and reduce turnover and conflicts have to have proficient leadership skills. Gone should be the days where physicians yell at their staff, let their egos rule, and think that they can do everything themselves.
Leadership is a professional behavior and serving relationship with staff and administrators that inspires their growth and makes a difference to the patients.
In this practical program physicians will look at leadership from a new perspective, learn the importance of emotional intelligence and self-leadership in order to be more effective not only with their patients but also with their staff.
I wanted to take this opportunity to let you know how much I enjoyed your recent presentation. It was one of the best overall presentations that I have ever attended. I would strongly recommend that all physicians attend one of your lectures. I have already incorporated many of your recommendations into my personal life.
F. Joseph, MD
Do you have an upcoming retreat, conference, or training day where you want to provide a meaningful, dynamic presentation?
If you are looking for a practical, solution-oriented, engaging, and customized program, I invite you to call me.
You will get a better feel for who I am and what I aim to provide for my audience.