Transform your Group's Performance and Leadership with Lasting Impact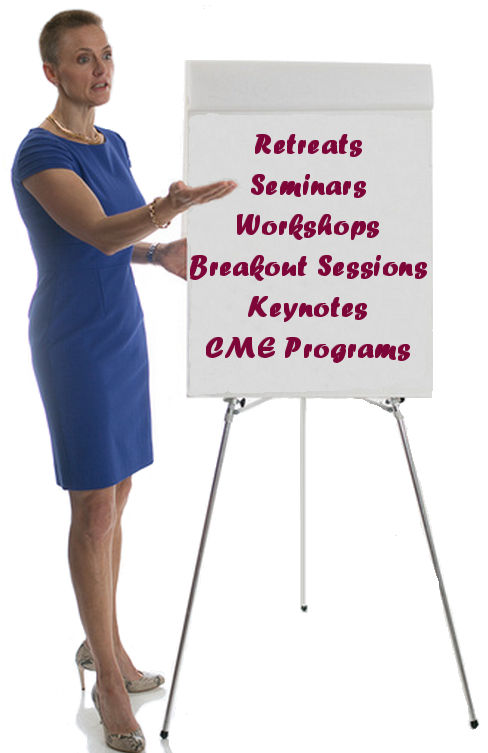 Whether you plan a company-internal event or your next association meeting, let us talk and explore how one of my presentation topics can serve your audience. 
Workshops, lunch'n learn programs, retreats, breakout sessions, webinars, or presentations – customizable as a 1-hour program,  1/2-day, full-day or 2-day events – are viable options to invite your team / audience to discuss critical topics and upgrade important business relation skills.
As a skilled speaker, facilitator, and coach, it is my priority to keep all topics pragmatic, interactive, and flexible.
Based out of Atlanta, Georgia I travel nationwide to deliver keynotes, workshops, and breakout sessions to organizations or associations.
Optimal Performance
The most critical component for personal and business success is personal optimal performance. When your team members are stressed too much, don't get enough sleep, experience a lot of chaos at home, or deal with a ton of problems, it is a fact that they won't perform optimally at work. When your team only functions from survival day in and day out, research shows that their health declines, their focus is off, they are more irritable, and they use work time to fix personal issues.
Creating a life where personal performance is optimal has to be a lifelong habit for people who strive to be their best. It is a goal that has to be addressed from multiple angles and the solutions are simpler than many people may think.
Optimal personal performance is a topic that I address with most of my clients, which is why I have a lot of knowledge and experience on it.
Titles of Presentations:
Reinventing yourself
Mental Fitness – Make Your Mind Your Best Friend
Emotional Competence
Stress Less – Perform Better
Being in the Zone
Iris Grimm conducted an outstanding presentation for our Institute of Management Consultants (IMC). The topic: Keeping Healthy and Motivated During Tough Times. She was very professional, well-organized, and engaging. I enthusiastically recommend her as a skilled coach, trainer, and facilitator.
Self-Leadership
Leadership is behaviors where we create a vision, followers, and the equal commitment to the vision and relationships (followers), never compromising one for the other.
Before and when a person is an effective leader, what they have to have is self-leadership. The attitude, the emotional competence, and the behavior that inspires others to engage and follow. Leadership is not just business acumen and industry knowledge, but being a compassionate and passionate person who knows how to involve others.
Therefore, being a good leader starts with personal growth and personal development, and that is what self-leadership is about. It includes being responsive (vs. reactive) in hectic times, shaking off stress quickly, showing up at your personal best every day, having the emotional competence to minimize the chance to get triggered, managing time and energy effectively, and so much more. Once a leader has the optimal attitude and behavior, performance automatically increases, charisma strengthens, and their interactions with people will be of higher quality so people want to perform better as well.
Titles of Presentations:
Reinventing Yourself
Mental Fitness – Make Your Mind Your Best Friend
Emotional Competence
Stress Less – Perform Better
Being in the Zone
Our organization, Women in Insurance and Financial Services, partnered with Iris for an annual membership event and her presentation really brought our event to the next level.
She was timely, passionate, and responsive during the entire time and really made everyone feel like she was addressing their questions and concerns to ensure they properly apply the ideas and principles of her presentation.
In addition, participants were very engaged with the topic, with Iris as a coach, and with each other as a community.
Leadership
Leadership is the merger and expansion of self-leadership, industry knowledge, business acumen, and the ability to build effective relationships with people of various personalities and professional levels to bring out the best from the leader and the team.
For bringing the best out of others, the most important skills for any leader are effective communication skills, including conflict resolution and negotiation, coaching, as well as Emotional Intelligence, and Emotional Competence. After all, as Simon Sinek says, "Failure we can do alone. Success always takes help." Engage your team effectively and everyone will win – the company, your team, and you.
Titles of Presentations:
Healthy Conversations – Shifting from I to We
Conversational Intelligence – A Key Competency for Leaders
I cannot say enough great things about Iris! Iris has volunteered her time to impact the lives of the men in the Canine CellMates program for years, with her speaking and workshops. Iris recently facilitated an 8-session Emotional Competence curriculum with the participants of our diversion program, Beyond The Bars. She is an amazing facilitator who was able to lead men who had never participated in anything that required a level of self introspection like this, and they were not just participatory, but highly engaged in these sessions. I believe that these sessions will make a positive impact long term on the lives of these men!
Dog-Gone Leadership
Dogs are the coolest little creatures that can help us expand our leadership. 67% of all Americans own a dog currently and I could imagine that the number of people who have never had a dog in their lives is in the teens. However, even many of these people either love to watch dogs or easily can relate to dogs. And dogs are fun and that is what I intend to bring into these leadership programs.
The dogs in our home are a reflection of our leadership. Since they are communicating on the energy level with us, their response to us is so pure and true. When it comes to people and their dogs, the love is so intense that with the right guidance, they are willing to uplevel anytime. And that is where Dog-Gone Leadership is so much fun because participants expand their leadership skills at home with their dogs and then they naturally apply them at work. These programs are about taking people out of the conventional leadership conversations to create fresh insights on old challenges.
Titles of Presentations:
Unleash the Leader in You
Being in the Zone
Reinventing Yourself
Call Your Dogs Off!
Do you have an upcoming retreat, conference, or training day where you want to provide a meaningful, dynamic presentation? If you are looking for a practical, solution-oriented, engaging, and customized program, I invite you to call me. You will get a better feel for who I am and what I aim to provide for my audiences.