Workshop, Retreat and Presentation Topics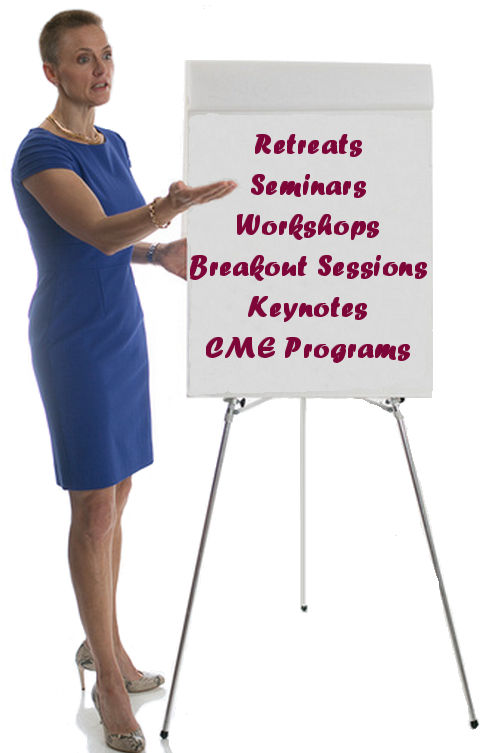 Whether you plan a company-internal event or your next association meeting, let us talk and explore how one of my presentation topics can serve your audience. 
Workshops, lunch'n learn programs, retreats, breakout sessions, webinars, or presentations – customizable as a 1-hour program,  1/2-day, full-day or 2-day events – are viable options to invite your team / audience to discuss critical topics and upgrade important business relation skills.
As a skilled speaker, facilitator, and coach, it is my priority to keep all topics pragmatic, interactive, and flexible.
Based out of Atlanta, Georgia I travel nationwide to deliver keynotes, workshops, and breakout sessions to organizations or associations.
Iris Grimm conducted an outstanding presentation for our Institute of Management Consultants (IMC). The topic: Keeping Healthy and Motivated During Tough Times. She was very professional, well-organized, and engaging. I enthusiastically recommend her as a skilled coach, trainer, and facilitator.
Healthy Conversations: Shifting from I to WE
The quality of our conversations determines the quality of our lives. Inefficient conversations are costly, highly frustrating, and often a waste of time. Now we have the neuroscientific proof of how miscommunication impacts our health. After all, they are often the reasons for increased conflicts in the workplace, higher divorce rates, and business failure.
Your Audience Will Learn:
When they upgrade their communication skills, they upgrade the quality of life
How miscommunication leads to higher levels of stress and disease in the body
How small changes in their communication approach can lead to higher levels of trust, deeper connection, greater satisfaction, and better results
~~~
Reinventing Yourself
Staying productive in your business and thriving in today's rapidly changing, globalized world requires constant adjustment. Many people achieve success by powering through – working harder or working longer. And they often get the prize they desire but some may pay a heavy price. Reinventing yourself is about working smarter and consciously applying proven principles that lead to more ease, connection, and freedom.
Your Audience Will Learn:
The one mindset that cuts stress down by 90%

The one skill that takes your life to the next level

The three principles that create more freedom and time
Our organization, Women in Insurance and Financial Services, partnered with Iris for an annual membership event and her presentation really brought our event to the next level.
She was timely, passionate, and responsive during the entire time and really made everyone feel like she was addressing their questions and concerns to ensure they properly apply the ideas and principles of her presentation.
In addition, participants were very engaged with the topic, with Iris as a coach, and with each other as a community.
Presentation Topics with the Canine Twist
Dogs are (wo)man's best friend. What makes it so easy to fall in love with them? Their innocence, their playfulness, their trusting eyes, their joy to be with us when we return home? That is just on the surface. When we look deeper into our relationship with dogs we find that dogs can be our teachers and coaches in business and in life when we choose it. They inspire us to make meaningful changes – changes that benefit us, the people around us, our organizations, and them.
Dog-Gone Leadership presentations step outside of the conventional leadership development box.
Dogs shake off their stress with ease. Great leaders shake their stress off quickly and return into an emotional state that serves the situation best.
Dogs read the energy of a room right away. Great leaders read the energy in the room quickly and adjust their style / approach accordingly.
Dogs challenge us to think outside of the box. Great leaders think outside of the box.
Dogs let go of the past quickly unless the humans stays in the way. Great leaders take nothing personal and let go of grudges and conflicts swiftly.
Dogs modify their behavior (positively or negatively) to force us to address unresolved issues within ourselves. Great leaders modify their behavior to bring out untapped potential in their teams.
Dogs reflect our leadership in vivid pictures and behaviors. Great leaders surround themselves with coaches and teachers who reflect to them their blindspots and challenges them to grow.
Dog-Gone Leadership shares these and more unique insights that will serve your audience/team to perform optimally, cooperate better, and be more effective leaders.
Samples of the Most Popular Topics:
Unleash the Leader in You –  an inspirational inquiry to lead from the head and the heart – taught by dogs.
The Art of Optimal Personal Performance – discover what we can learn from dogs to reduce stress and perform at our best.
Mental Fitness – Make Your Mind Your Best Friend – learn how you can design your life experience with greater ease.
Do you have an upcoming retreat, conference, or training day where you want to provide a meaningful, dynamic presentation? If you are looking for a practical, solution-oriented, engaging, and customized program, I invite you to call me. You will get a better feel for who I am and what I aim to provide for my audience.