FOREVER YOUR DOG
Create a Harmonious Life with your Dog
– The Dog OWNER Training & Support Group – 
A 60-minute virtual training program
to learn behavior, leadership, and life tips all around dogs
Integrating a dog into your family is a life change for everyone, including the dog(s)
New life routines
Additional responsibilities
Adjustment hick-ups
Training the dog to respond to your body and verbal language
Building a bond with the dog
Understanding how to address special needs from the dog
It can be daunting to deal with all of this at once. That is one reason why many dogs get returned; either to shelters or to rescue groups. But it is not necessary because every problem has many solutions. Surrendering a dog to a shelter or returning the dog to the rescue group should be the very last. That's why I created these dog owner support calls. 
My commitment is to support dog owners to keep their dogs in their homes and create a harmonious life with their dogs. 
Hi I am Iris Grimm. I've had my own dogs for 21 years. I've fostered dozens of dogs. I've trained many dogs. I am a leadership/executive coach and a dog trainer.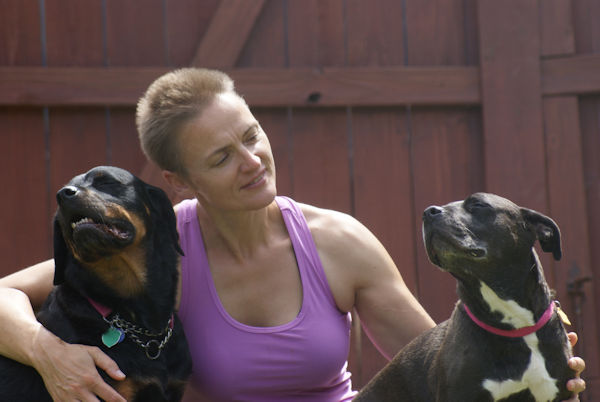 It is my mission to:
Take the stress and uncertainty out of adopting a dog
Shorten the learning curve of integrating a dog into your family
Help you strengthen the bond with your dog intentionally
Reduce the chance that your dog doesn't settle in your home and you have to return it to a rescue group or shelter
Make meaningful lifestyle improvements that guarantee a peaceful life for you and your dog
Provide you solutions for behavior issues that creeped up over time
This program is for both – dog owners who either adopted / bought a dog recently and dog owners who've had a dog for a while and they have some questions about dog ownership or could not resolve a certain behavioral issue with their dog.
Join us for this dog owner training and support meeting! Bring your questions and bring your biggest challenge with your dog. We are a support group of dog owners sharing resources and ideas on how to create a better quality of life with your dog. I will share behavior, leadership, and life tips all around dogs. And other participants will share their ideas and experiences as well. There is a solution for every problem and I am sure together we can find a solution for your situation. 
When: Every 2nd Thursday of the month. See days and times below.
Where: On Zoom
How to register: Click on the event date below to register
Investment: $15 tax-deductible donation to the rescue group of your choice.
Please go to the website of the rescue group of your choice and click on the "DONATE" button and make the donation. In the comment section you can type "Iris Grimm" so that they know the reason. Once you receive a confirmation email from them, I kindly ask you to forward it to hello@irisgrimm.com so that I know you completed the registration process. Thank you.  
Questions? Click here and I'll get back with you.
Xena - a shy dog - overcame her fears
I have adopted my Connie from Friends to the Forlorn, and now I am the foster mom to Xena, also from FTTF. I heard about Iris' training class, Let's Talk Dog, from a friend with the rescue. I was excited to attend as my foster Xena has some issues and I wanted some professional help on training her.
Let me first tell you about my Xena. She was rescued from the shelter with her pup. She is hand shy, afraid to get in cars, high energy…meaning she jumps up on you and runs from her food bowl to me throughout her feedings. I was hoping that Iris' training class would help, though I must say I was skeptical as I was told not to bring my dog. I thought, "how will it help if you don't meet her and see her behaviors?" Boy was I wrong! I loved the way the class was conducted. Everyone was able to voice concerns, and Iris gave all of us her attention and took our concerns seriously. Through advice and the use of her own foster Deno, the lessons and tools she armed us with made me leave feeling confident that I could change not just Xena's behaviors but my own habits to help her.  Through Iris' class, I realized that it was not just Xena but myself as well.  With the help of Deno, I saw firsthand how simple play and affection can trigger unwanted excitement in some dogs.
After I went home I began using the techniques Iris taught in class, and Xena's behaviors have improved significantly. This class was great as was Iris and Deno.  I would highly recommend it to anyone who has a fur baby either as a pet or foster.
Sarita Vaughn
Charlotte pulled on the leash
I enjoyed the workshop very much.  It was great to see you again, and I always enjoy seeing your dogs, too. After listening to you, it finally dawned on me I need to take the time to train Charlotte to walk with me. We have been so busy trying to make sure she gets out for good walks twice a day, that we have really not taken the time to train her about HOW we want her to walk with us. I came home and cut up some treats and tried them out with her right away. Boy, was she happy to have those treats again! Charlotte seemed to understand that I was trying to work with her. On her walk this morning, she did not do EXACTLY as I wished, but it was better. I will keep up the training and will try to get my husband and son involved. I think you already describe your program very well: that it is all about training HUMANS, not their dogs! Thanks for providing this valuable training!
Michelle Ruechel
Excited dogs are calmer now
I walked in the door last night from work and didn't talk to the dogs. Just walked to the back door to take them out. They were a lot calmer. So I think after a few days they will not jump at all. It's just so hard not to say anything, but I'm sure it will get easier and become our new routine. I think what you said about being on the same intensity level with the dog was very valuable. They noticed I was different and came down to my level to match me.
S. Wilson
Rambunctious dogs
My husband and I have two terriers who were out of control when confronting other dogs. Within an hour and a half, Iris showed us the skills to have them obedient and listen so that we could peacefully walk while encountering other dogs. Iris has an array of pooches which was nice for our dogs to get to look at a variety. Our neighbors jokingly call our dogs, "the new dogs" because no one can believe they are the same ones. Iris is the best dog/human trainer I have ever met. I would recommend her very highly.
Jodi DuFresne
Well-received training
"Iris, we really enjoyed the class today! You did an excellent job of presenting and your remarks all made so much sense. It's great that you are able to share it so well with others. Thanks, too, for the reminder email with directions. You also get an A+ for organization!!"
New tricks
"I thought the seminar was great! Iris was so well prepared, organized, direct, and to the point. I have 2 really fantastic pit bulls that I adopted. One thing I learned is that I probably don't reward them quite enough, because they are just always so good. I would highly recommend this seminar to any new dog owner or who want to get a dog."